Jakes Yard
Construction
Exhibitions Attended
Show Managers Information

Designed to be easily transportable, Jakes Yard is a minimalist layout. Representing a small locomotive stabling point somewhere in the north of England. Just off scene is a marshalling yard that justifies the existance of Jakes Yard.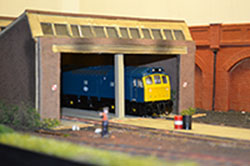 A survivor from an earlier steam age the layout shows the dirt and grime that accumulates in such places.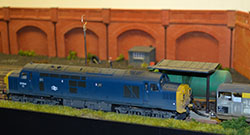 Although set in the blue diesel era, Jakes yard can be used with diesel or steam traction.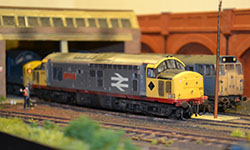 Construction
Jakes yard is built on a single board made from 9mm ply with a solid top.The track is handbuilt using steel rail and copperclad sleepers soldered together.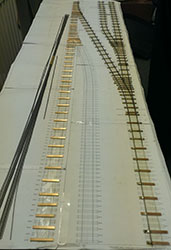 Point operation is by servos driving handbuilt turnout operating units below the board surface.
Exhibitions Attended/Invited
2nd August 2014 Deal
18th July 2015 Frinton on Sea
19th/20th September 2015 Dartford
3rd October 2015 Broadland MRC, Aylsham
21st/22nd November 2015 Shoeburyness MRC Exhibition, Southend
26/03/2016 Galleywood Heritage Centre
16th April 2016 Mid Kent MRG - Maidstone
2nd/3rd July 2016 Basildon MRC Exhibition
9th July 2016 Sheredes School Model Railway Exhibition
16th July 2016 Frinton
3rd/4th September 2016 Gaugemaster Open Weekend
25th February 2017 Maldon Model Railway Exhibition
1st April 2017 Mid-Kent Model Railway Exhibition
6th May 2017 Billericay Model Railway Exhibition
20th May 2017 Tunbridge Wells Model Railway Exhibition
9th July 2017 Oxted Model Railway Exhibition
26th August 2017 Woodbridge Model Railway Exhibition
8th October 2017 Museum of Power, Langford
9th December 2017 Mayflower Model Rails Show, Manningtree
21st January 2018 Witham Model Railway Exhibition
8th April 2018 Dunmow Model Railway Exhibition
5th May 2018 Galleywood model Railway Exhibition
26th May 2018 Dulwich Model Railway exhibition

Show Managers Information
To 4mm scale 00 gauge.
6ft long by 18 inches wide in 2 sections.
The layout is primarily operated from behind so requires (ideally) 6ft by 6ft.
Lightweight, Constructed from Plywood, quick and simple to erect and knockdown.
Single power supply required.
It can be operated by 1 but ideally 2 operators.
Attendance for expenses only, (transported in a single car from South Essex).
It is equipped for full DCC operation.
Operational periods can range from early 1960s to yesterday.