Southcliffe
Construction
Exhibitions Attended
Show Managers Information

Awarded Best in Show at Weeley 31st March 2018
Southcliffe is a fictional seaside town in Essex. It is inspired by elements of Westcliff-on-sea, Leigh-on-sea and Southend and consists of a beach with beach huts on the promenade, a station at the foot of a cliff, a Funicular railway and part of the town on the hill above.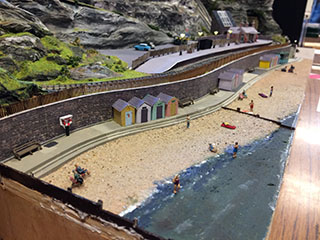 At the top of the cliff railway stands the Southcliffe Hotel looking down the hill towards 'ye old Smack' where the traveller can get a pint before either joining the disco in full swing upstairs, join the queue for the Fish and chip shop or take a wander down the hill to the station and beach beyond. When the day is done weary travellers and holidaymakers return to the Hotel using the funicular railway.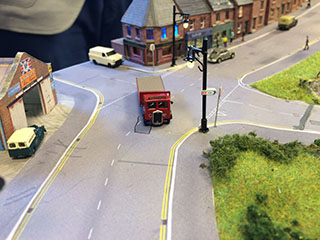 Southcliffe came into existence as an entry to a competition run by the One Model Railway club of Needham Market. The requirement was to build a layout on a 2ft by 3ft board. Three or four designs were put forward by members and one was picked. The track plan is designed to allow the finished layout to be integrated into the 'Modular' layout that is also under construction by the club. It is wired for DCC operation.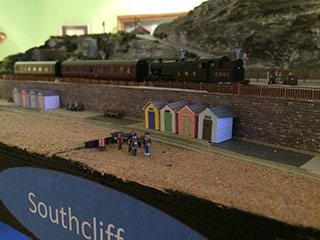 Buildings are a mixture of Metcalfe, Scale scenes and Smart Models products. With the cars of the Funicular railway slowly moving up and down plus working street and platform lights and many of the buildings light there is constantly something changing. All the lighting is controlled by three Arduino microprocessors driven off the DCC Supply.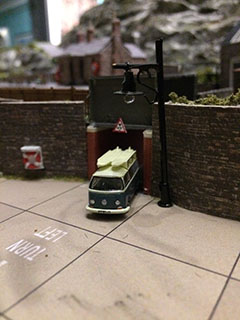 Construction
Southcliffe is built on a single board made from 9mm ply with a solid top. The track is code 40 from the British Finescale track system. Two points off scene are hand built by soldering Code 40 rail to copper clad sleepers and are driven by DCC Concepts Cobalt motors.


Exhibitions Attended/Invited
24th September 2017 Needham Market
25th February 2018 Maldon
31st March 2018 Weeley
8th April 2018 Dunmow
5th May 2018 Galleywood
19th May 2018 Tonbridge
7th October 2018 Museum of Power, Langford
17th-18th November 2018 Shoeburyness

Show Managers Information
To 2mm scale N gauge.
3ft long by 2ft wide in 1 section.
The layout is primarily operated from behind so requires (ideally) 4ft by 4ft.
Lightweight, Constructed from Plywood, quick and simple to erect and knockdown.
Single power supply required.
It can be operated by 1 but ideally 2 operators.
Attendance for expenses only, (transported in a single car from South Essex).
It is equipped for full DCC operation.
Operational periods can range from early 1960s to yesterday.